Build your Project - Free Project Estimating
July 23, 2018, 3:39 p.m.
Kyle Linden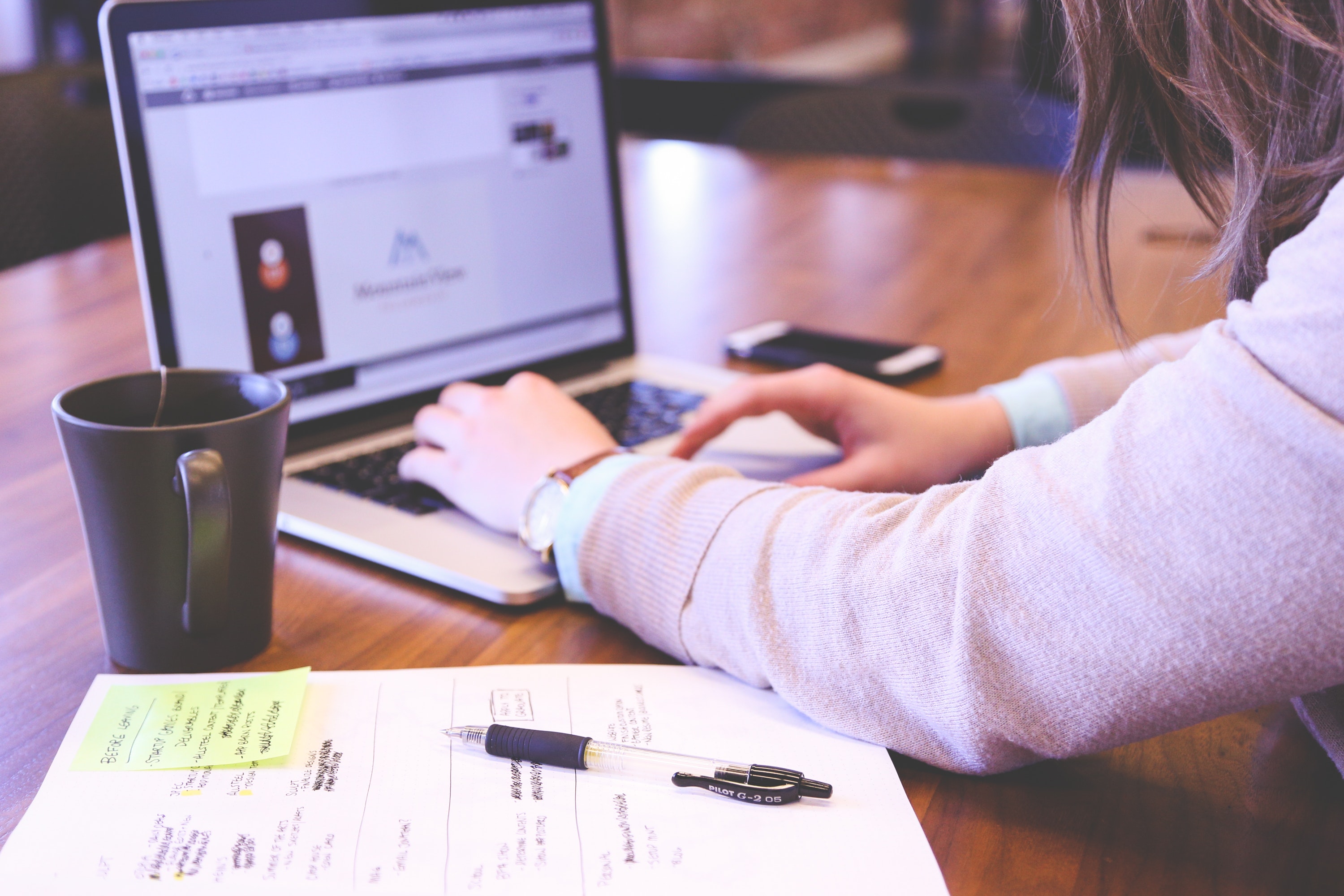 Build your Project
Getting cost estimates and material quantities for your projects is easy with PostmyProject's automated project builder application. After navigating to the Builder page, you can utilize the project autocomplete input to enter any project. You'll notice that the autocomplete box drops down an assortment of choices to select from. Simply click on of the dropdown choices and the builder will build out your project for you. When you select your project you will see an array of tables populate different tasks and materials that are utilized to generate the costs of your project. In the example below, we are using the project 'Replace Lap Siding'.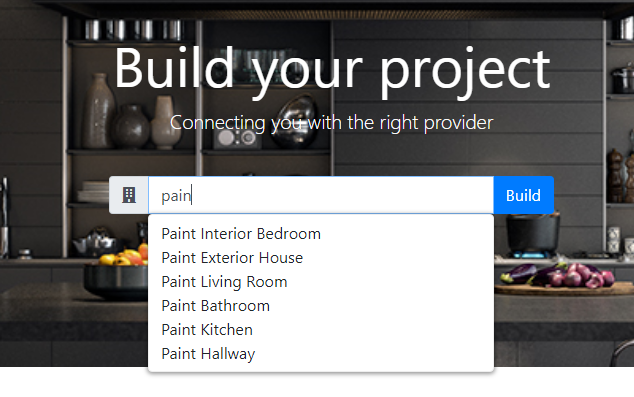 Customizing your Project
Customizing your project is easy. At the top of each project you'll notice there is 'Project Title' block where you can enter your project's custom name. This name will help you remember what project you are building if you decide to save it to an account, email it to yourself to get a material shopping list, or in the future to post it on PostmyProject.com to get free quotes from contractors. If you save and want to return to your project at a later date, you simply need to login, navigate to your profile and view your saved projects. Additionally, at the top you'll see a 'Location' input box. This is used to calculate your material taxes and determine which contractors to contact if you decide to get quotes from contractors on PostmyProject in the future.
Project Quantity
The pre-populated project already has a quantity value in its quantity input field. In the example of 'Replace Lap Siding' we have gone ahead and given you a default quantity of 4,500 square feet to represent the average quantity it takes to re-side a house. You can adjust this quantity based on your property's actual exterior square footage. Or, if you prefer, you can simply leave it where it is to get an idea on what this type of project costs for the average project. The beauty of the project quantity is that it carries throughout the entire project when you update it. If you update your siding project from 4,500 to 5,000 square feet, your labor costs, material quantities and material costs will update their quantities accordingly.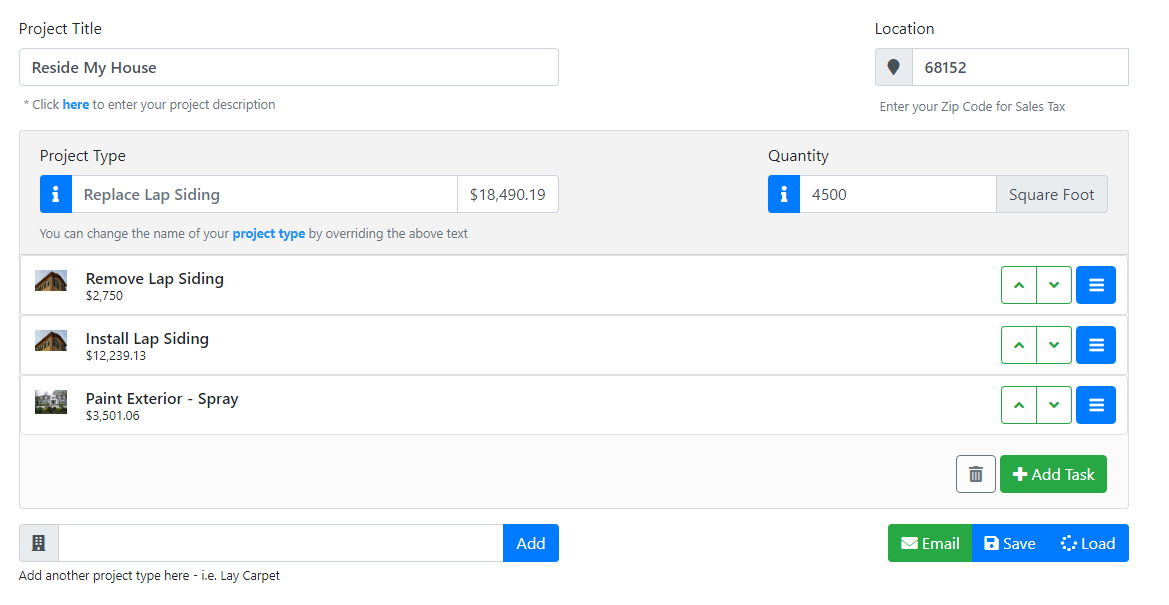 Task Quantity and Costs
Using the 'Replace Lap Siding' project type you'll notice that there are three tasks listed: Remove Lap Siding, Install Lap Siding, and Paint Exterior – Spray. These are the basic building blocks of the 'Replace Lap Siding Project'. Additional tasks can be added or removed using the + Add Tasks button located in the bottom right corner of the project table. When you add new tasks the autocomplete will help you find several pre-constructed tasks. You can also build your own custom tasks for the project. If you click the blue hamburger icon on the right side of each task, a drop down will show up. Here you can review the task labor rate; in this case, installing lap siding is estimated at $1.50 per square foot. Adjusting this labor rate will automatically re-calculate a new project cost. We have pre-populated common labor rates for various projects to make your build easier.
Material Quantity and Costs
In the example below, we have dropped down the Install Lap Siding task. As you notice, the material quantities are listed. For example, our project is using 4,500 square feet as its default quantity. The material 'House Wrap' is using that same quantity, 4,500 square feet. If however, you look at the box of coil nails, you'll notice that it only lists two boxes. This is because the PostmyProject Builder utilizes coverage factors to adjust your material quantities based on typical coverage values. For example, a box of coil nails typically installs 3,000 square feet of siding so you will therefore need two boxes to install 4,500 square feet of siding. If you'd like to add additional materials to you project you can simply click the + Add Material button at the bottom right corner of the material list. Just like adding a task, this will allow you to search various materials that we have already created as well as add your own.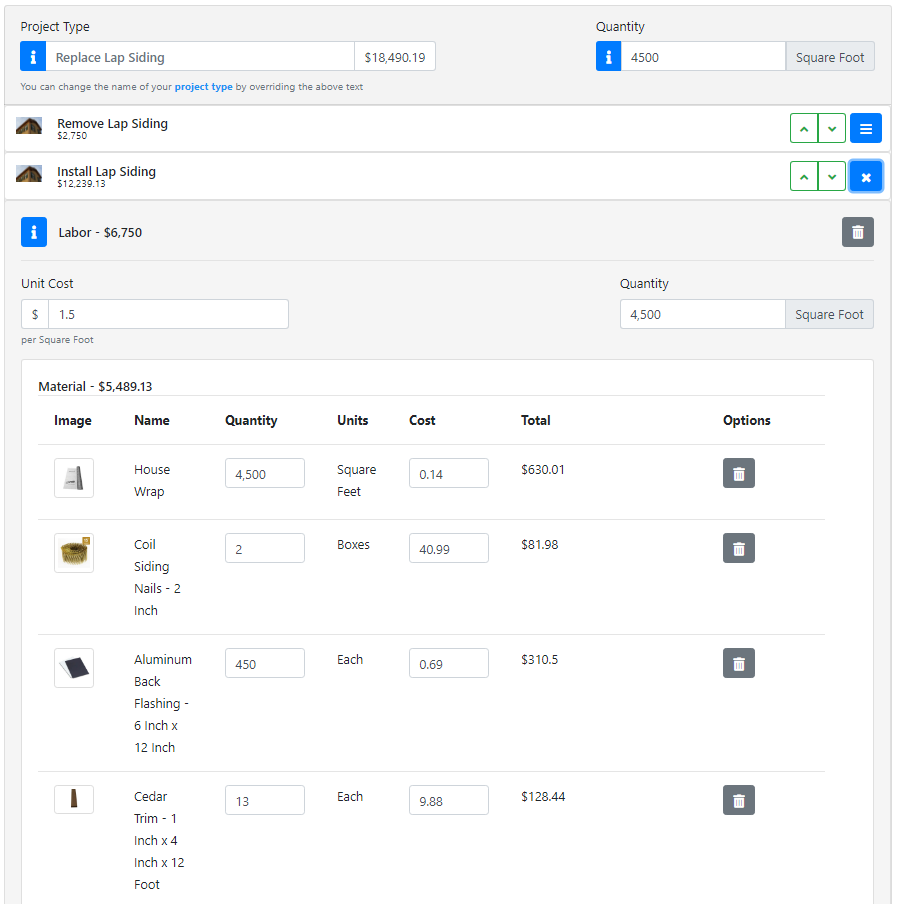 Final Steps
We have built a couple key features into the builder that will help you better utilize your project information. The first feature is the save feature. When you sign up and create a profile, you'll be able to save all of the projects you would like. This will allow you to refine your project over time as you gather additional ideas and get more information about your project. The second major feature is the email feature. When you are done building your project, you can email the details to yourself. This will make it easy to get all of the materials you need from the store so you don't forget a key material. Coming soon, we will be adding two more features that allow you to post your project online to get quotes and to seek out providers in your area through our directory.
Continuous Improvement
Since the Build my Project feature is new, we are looking for your feedback to make it better. If you find any issues with our application please feel free to visit our contact page and let us know what needs fixed or if you have any ideas for improvement. As we build out our database, our information will only get better. When you build a project that we don't have prepopulated, we capture that information to build it out in the future. The more information we get the more accurate and better the build my project application will become.